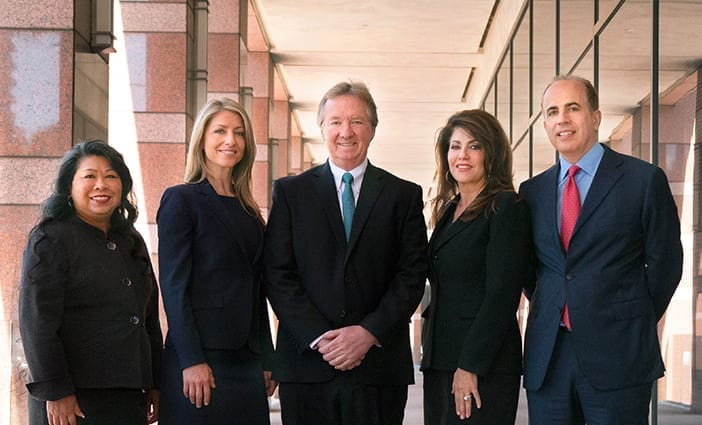 15 Feb

Meet the Team: GFT's Experienced Attorneys

Your Family Law & Divorce Attorneys

Gilligan Frisco & Trutanich LLP has represented clients in courts throughout Los Angeles, Orange, and Riverside counties for more than 40 years. Our attorneys specialize in family law and criminal law, handling these complex and high profile issues with full confidentiality and diligence. When you're experiencing difficult times, it is important to have people you trust by your side. That is where our team of highly-skilled lawyers comes in. Get to know our strong team below!

John J. Gilligan

Co-founding partner of GFT, John J. Gilligan has been a practicing family law and divorce attorney since 1981. During his experience thus far, he has handled over 7,500 family law matters. John earned a Bachelor of Science in Political Science at The College At Brockport State University Of New York. He went on to receive his Juris Doctorate from Western State University and his Mediation credential from Pepperdine Law School. He became a Certified Family Law Specialist in 1997 and has been voted as one of the Top Attorneys in the State of California. John is a member of American Bar Association, LA and Orange County Bar Associations, Irish-American Bar Association, Los Angeles Trial Lawyers Association, and more.

Janine M. Frisco

Janine M. Frisco has been a practicing family law and divorce attorney since 1999. Prior to joining GFT as partner, she served with the Los Angeles District Attorney's Office. Ms. Frisco earned a Bachelor of Arts from California State University, Long Beach and her Juris Doctorate from Western State Law School. She has extensive experience with handling California Family Law matters. Some of the associations she is a member of include the Los Angeles Bar Association, California Bar Association, Italian Bar Association, Southeast Bar Association, and Long Beach Bar Association.

Kristin Trutanich

The third partner of GFT, Kristin Trutanich, has over 13 years of litigation experience. She has been a practicing family law and divorce attorney since 2005. Before joining GFT, Kristin was a Deputy District Attorney with the Los Angeles County District Attorney's Office, where she tried over 70 jury trials involving domestic violence, child abuse, sexual assault, gang violence, and murder. She received her Bachelors of Arts in Communication, with a minor in Psychology at Loyola Marymount University and her Juris Doctorate from Whittier Law School. Ms. Trutanich has been honored as human trafficking gang expert and Los Angeles County gang liaison. Some of her professional activities include being a member of the Los Angeles County Bar Association and a Certified Police Officer Standards and Training Instructor.

Michael Sarris

As a practicing family law & divorce attorney since 2005, Michael Sarris continues to specialize in California Family Law with extensive experience in the areas of child support, child custody and visitation, spousal support and community property division. He received his Masters of Business Administration at Columbia Business School, his Juris Doctorate at Athens University Law School, and Masters of Law in European Community Law from the University of London. Mr. Sarris is a member of the European Union Bar and California Bar Association.

Wendy K. Tse

Wendy K. Tse has been a practicing family law and divorce attorney since 1998. She specializes in and has extensive experience with matters pertaining to California divorce, contested custody disputes, child support, spousal support, complex financial issues, and more. Ms. Tse earned a Bachelor of Arts in Business Administration from University of California, Riverside as well as her Juris Doctorate from Loyola Law School of Los Angeles. She is involved with Orange County Women Lawyers Association, Los Angeles Superior Court Domestic Violence Project, and the Western Law Center for Disability Rights.

Let Us Represent You Through Difficult Times

If you're in search of a team to represent you through tough times, look no further than the attorneys at Gilligan, Frisco & Trutanich, LLP. Contact us today to schedule a free consultation.